Lagos may not be Nigeria's capital city anymore, but it is the hub of many of the nation's most notable industries. Considered the largest city in Africa, Lagos has a growing presence on the world stage. Nollywood's ability to attract global stars to Nigerian film and the vast rate of growth in the Lagos music scene are just two indications that the city can hold its own against some of the world's leading cities.
Lagos vs Cairo
The natural starting point when comparing Lagos with other cities is to look at one of its continental competitors in terms of size. When City Population considered the world's major agglomerations at the start of 2018, Lagos ranked alongside Cairo in population ranking. Both were estimated to have a population of 18.2 million; Cairo's figure includes more surrounding regions, thereby leaving Lagos as the sole claimant of the title of most populous African city.
Despite the similarities in population size, Cairo's metropolis has around half the square mileage of Lagos. This ranks the Egyptian capital among the world's most densely populated cities, ensuring that those in Lagos have more space to roam per person in comparison to Cairo. Both cities are unsurprisingly bustling and vibrant, but have their own characteristics shaped by their geographical location.
The two cities may reside on the same continent, but their diverse climates are testament to the vast scale of Africa. Both cities are generally warm, with Lagos' daily temperature higher but Cairo having more potential to burst into a period of sweltering heat. There is a more noticeable difference regarding precipitation. Lagos has clear wet seasons and dry seasons, while the desert climate of Cairo unsurprisingly keeps the city largely dry throughout the year.
It may be somewhat counter-intuitive, but sometimes part of the thrill of experiencing a new city comes from exploring the surrounding area. While nothing can match the buzz of a metropolis, it is important to spend time away from the city centre to be able to compare the urban to the rural. The regions close to each city are defined by their climates. Cairo's most famous attractions are found in Giza on the outskirts of the city, the smooth terrain of the deserts punctuated by the legendary pyramids rising out of the sand.
Lagos can offer a different type of wondrous environment, one that would be impossible without some form of precipitation. The LUFASI Nature Park is a short trip out of the city, its rich greenery providing a habitat for critically endangered animals such as the hooded vulture. It is impossible to say which form of spectacle is more thrilling, with the man-made wonder of Cairo's pyramids and the unique beauty of Lagos' natural park appealing to different tastes.
Lagos vs Los Angeles
Lagos' commonalities with Los Angeles extend beyond the letters 'LA'; the American city may be home to the glitz and glamour of Hollywood, but Lagos' film industry is becoming more influential on the global stage. While the Nigerian movie industry may be referred to as Nollywood, Nigerian film-makers have carved out an identity refreshingly distinctive from Hollywood blockbusters.
That is not to say that Nollywood movies are lacking the global star power of Hollywood. American screen legends Kim Basinger and Mickey Rourke joined forces with esteemed Nigerian director Jeta Amata to produce Black November in 2014. Fellow Oscar nominee Eric Roberts gave his acting pedigree to A Trip To Jamaica, which became one of Nigeria's highest-grossing films after its release in 2016.
The relationship between Nollywood and Hollywood is becoming increasingly reciprocal, with many Nigerian-born actors becoming global superstars. Chiwetel Ejiofor, the captivating lead of 12 Years A Slave and a recent addition to the Marvel Cinematic Universe via Doctor Strange, was born to Nigerian parents and remains proud of his heritage. Ejiofor starred in Nollywood production Half of a Yellow Sun in 2013 in a cast featuring the then-unknown John Boyega, another actor of Nigerian heritage.
Chiwetel Ejiofor starred alongside Thandie Newton in Half of a Yellow Sun. Source: Half of a Yellow Sun Movie via Variety
Boyega has stated his intentions to lend his star appeal and financial clout to Nigerian cinema, with both of those qualities the result of his starring role in Star Wars: The Force Awakens. If actors of the calibre of Ejiofor and Boyega appear in Nigerian movies in the coming years, it will give the Nigerian film industry a huge boost on the world stage. Good times for Nigerian film lead to good times for Lagos.
The city has hosted a string of huge movie premieres in recent years, including a glamorous event for Ocean's 8 earlier in 2018. This attracted criticism from some quarters, with questions raised over the necessity for such an event when the film's stars don't attend. These premieres would become a far more essential part of Lagos' culture if they were celebrating films made by and starring Nigerians. While Hollywood may remain untouchable in terms of the global film industry, the success of Nigerian directors and actors can put Lagos on the map as an important centre for cinema.
Lagos vs Melbourne
Melbourne ranks among the world's leading cities for sport, with its rich history and sporting diversity making it an excellent role model for growing cities like Lagos. Australia's second-most populous city is regarded as the spiritual home of two of the nation's favourite sports. Despite its name, Melbourne Cricket Ground was the birthplace of the country's oldest Australian rules football club. More appropriately, it is also renowned for hosting the world's first cricket Test match, competed by Australia and England in 1877. Both sports continue to enthral packed crowds at the MCG.
Melbourne's sporting heritage extends to other venues, with Formula One's trip to Australia currently hosted by the Melbourne Grand Prix circuit at Albert Park. The city also accommodates one of the world's most prestigious horse races, with the Cox Plate taking place annually at Moonee Valley Racecourse. 2018's Cox Plate welcomed perhaps the world's finest racehorse, Winx. Often renowned as the Usain Bolt of horse-racing, it is no surprise that a comparison of prices with Oddschecker finds Winx as favourite to win a fourth consecutive Cox Plate. The opportunity to watch some of the finest exponents of sports as diverse as cricket and horse-racing is what makes Melbourne such a paradise for sports fans.
Lagos inevitably can't compete with that range of sporting activities, but then few cities can. While Melbourne has a long history with some of the world's oldest sports, a city like Lagos can thrive on the growing popularity of up-and-coming pastimes. Cheerleading may not have the cachet of a sport like cricket, but that is a result of a lack of understanding and publicity. With cheerleading a possible addition to the roster of sports available at future Olympics, its popularity is on the rise across Africa. The Lagos Cheer Nigeria team would be the ideal national representatives at the Olympics, and the ideal role models in inspiring a new generation of sportspeople in Nigeria's largest city.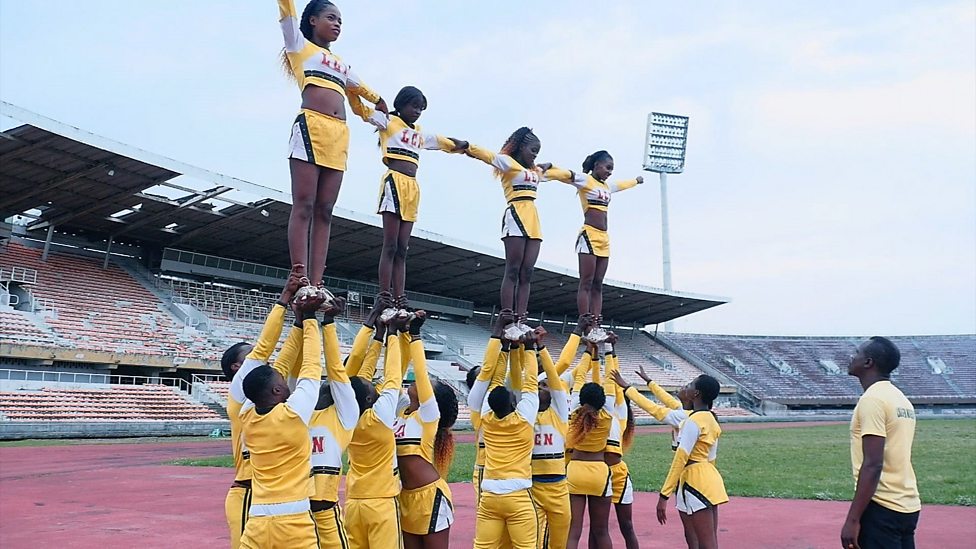 Thrill-seekers can also enjoy sports that may not be traditionally associated with Lagos. That perception of Lagos is changing, with water-sports becoming increasingly popular in the bay of Lagos. This is an area in which the Nigerian city can compete with Melbourne, although part of the appeal of these water-sports comes from their unique surroundings. Jet-skiing and surfing provides an escape from the bustle of the city, but also offers the opportunity to take in the cityscape from an alternative perspective. Whether viewing Lagos or Melbourne from atop a jet-ski or surfboard, you can be sure that the sights will be spectacular.
Lagos vs Johannesburg
Lagos and Johannesburg are often compared when considering the most exciting cities in Africa in which to be a young person. Lagos has traditionally lost out to the South African city in terms of tourist numbers, but that trend could soon be reversed. In particular, the rise of the music scene in Lagos could make it an attractive place for generations that value the importance of a busy nightlife.
The Nigerian city does have some musical prestige on a global level that is perhaps not common knowledge. When most people think of Paul McCartney, the first place they associate with the legendary Beatles' member is Liverpool. Fans of Band on the Run, the 1973 album by Paul McCartney and Wings, may think of Lagos before Liverpool. The Nigerian city is the unlikely location in which McCartney recorded the album, using EMI's studios in Lagos to track most of the instruments himself. Regarded as one of the best albums to come from life after the Beatles, it is an unusual but impressive part of Lagos' musical history.
Lagos may not be attracting global stars of the stature of McCartney today, but the national music industry is thriving in its most populous city. In 2016 Reuters reported PricewaterhouseCoopers' prediction that revenue from sales in the Nigerian music industry could rise to $88 million in 2019. This rate of development would make it one of the world's fastest-growing markets.
The rising prominence of social media has given Afrobeat artists the platform from which to disseminate their tracks with greater ease. On a night in Lagos, clubs become packed as party-goers dance for hours to the country's biggest hits. You don't have to go to a club to hear the music of Nigeria, however; tourists will unavoidably get a flavour of the Afrobeat sound from a stroll around the city, with a speaker blaring the latest hit never too far away.
Afrobeat is thriving in Nigeria, but its success is spreading across the world. Lagos-born rapper Wizkid rose to international prominence when he collaborated with global superstar Drake to release 'One Dance', which soared to number one in the charts of 15 countries. This breakout success has attracted many overseas fans to the sounds of Afrobeat, while it is also encouraging more musicians of Nigerian heritage to return to the nation and become more connected to the sounds that define the country. The opportunity to hear something that has global appeal yet retains a strong Nigerian identity will ensure that Lagos' busy nightlife remains a required destination for visitors to the city.
Johannesburg has a similarly burgeoning underground scene, with a generation of passionate and talented independent artists seeking to break into popular consciousness. Lagos and Johannesburg may have their own sounds, but their artists share the same ethos. The African music industry may have previously been dominated by the same handful of big-name artists, but the rise of DJs, vocalists and instrumentalists pushing boundaries is bringing more attention to the underground scene.
While Lagos is becoming synonymous with Afrobeat, South Africa is perhaps not as widely known as one of the biggest purveyors of house music. Yet this is the case, with township house a prominent genre in Johannesburg. Just as it is impossible to traverse Lagos without getting a flavour of Afrobeat, these variations on house music are ubiquitous on speakers and radios across Johannesburg. With influences as diverse as jazz and Britpop, Johannesburg has become a breeding ground for some of the continent's most promising emerging artists.
Soon, it will be those names that currently play the music clubs in Lagos and Johannesburg that will be populating airwaves across the continent. From there, African artists may receive the global recognition that they warrant. As with all countries in the world, residents across Nigeria and South Africa will look to the cultural centres of Lagos and Johannesburg respectively for inspiration and guidance. It is up to those cities to ensure that they are pushing creative boundaries.
Of course, any comparisons between Lagos and other locations is only a light-hearted way of highlighting the various attractions of the largest city in Africa. Part of the joy of discovering a new city is getting to know its distinctive character, and Lagos is no different. While it may lack the romantic allure of Los Angeles or the sporting traditions of Melbourne, it forges its own identity as a result of the resilient and entrepreneurial nature of its inhabitants.  With growing film and music industries, Lagos has the opportunity to build its reputation and become an increasingly exciting place for residents and tourists alike.