As the Royal Wedding drew closer the more the speculation over her dress for the big day grew.
Finally the day is here and we're knocked off our feet by how amazing she looks! Meghan Markle may not have worn a dress by any of the designers we thought we would wear but she certainly made a good decision by going with Givenchy.
But what do we really know about Meghan's dress, veil and tiara for the Royal Wedding?
1. Clare Waight Keller for Givenchy made the dress
Meghan's dress is designed by Clare who is a highly revered British designer. Clare became the first female Artistic Director at the historic French fashion house Givenchy after serving as creative head at Pringle of Scotland and Chloé,.
Clare was chosen to make Meghan's wedding dress after the two met earlier this year.
2. Meghan's wedding dress is made of one of a kind fabric
After Clare and Meghan had done an in-depth research across European fabric mills they settled on an exclusive double bonded silk cady which was developed specifically for the dress.
The fabric was chosen because it would give the "perfect for the round sculptural look".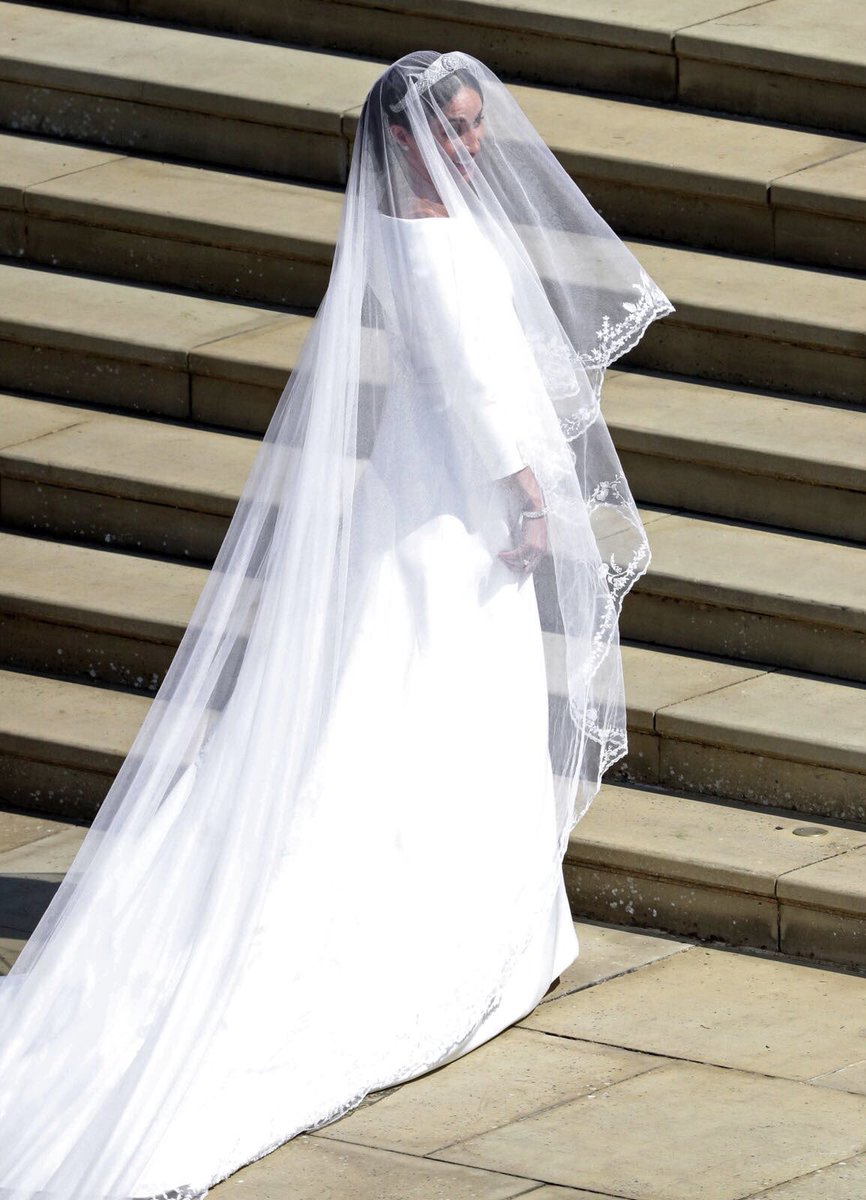 3. Meghan's veil has all 53 countries of the Commonwealth represented
Meghan wanted to have all 53 countries of the Commonwealth with her during the ceremony and her veil bears testimony to this. The veil is a floral composition of one distinctive flora which represents each Commonwealth country where it is mostly found.
Meghan also chose Wintersweet which grows in the grounds of Kensington Palace and the California Poppy to represent her place of birth in California. Crops of wheat are also embroidered and blend into the flora to symbolize love and charity.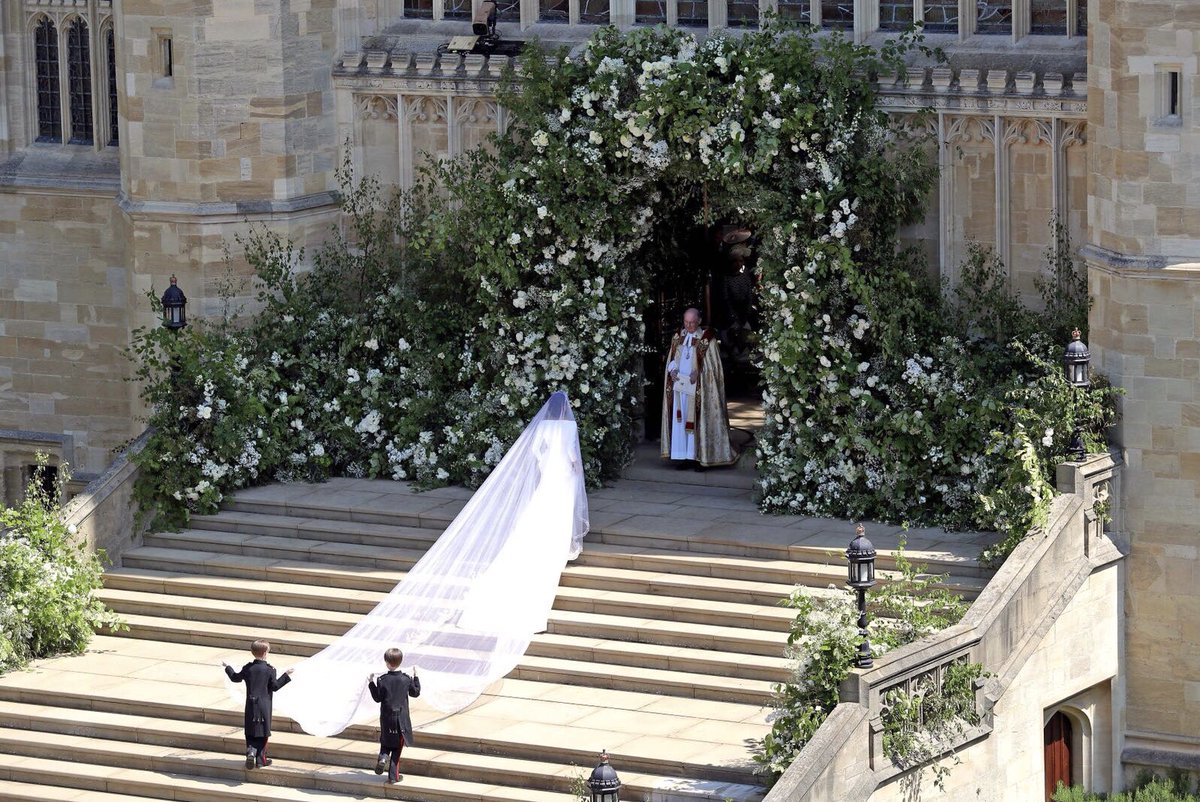 4. It's a really, really long veil
The veil is five meters long and is made from silk tulle with a trim of hand-embroidered flowers in silk threads and organza.
The workers spent hundreds of hours carefully sewing and washing their hands every thirty minutes to keep the tulle and threads clean. Phew!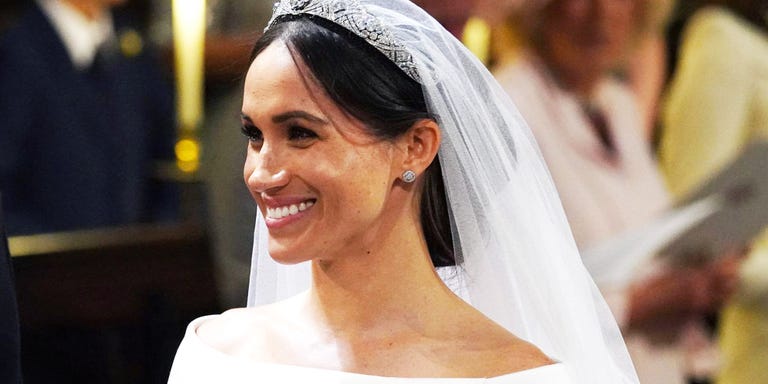 5. The tiara was given to her by the Queen
Meghan's veil is held in place by a tiara which was lent to her by the Queen. It;'s very much royal tradition as we see with Princess Diana's wedding and Kate Middleton.
The tiara is Queen Mary's diamond bandeau tiara and was made in 1932, with the centre brooch dating from 1893. The tiara was given by Queen Mary to The Queen in 1953.
6. Meghan's wedding ring is a gift from the Queen
Meghan added another ring alongside her three-stone diamond engagement ring, a wedding band made of Welsh gold, which Queen Elizabeth gave the bride-to-be as a gift.
7. Meghan kept it simple with minimal jewelry
While it may be her big day, Meghan Markle decided to keep it simple with wearing a tiara lent to her by the Queen, diamond stud earrings and a stunning bracelet. No necklace here as Meghan kept the boatneck of her wedding gown clean and modern.
Her earrings and bracelet are made by Cartier.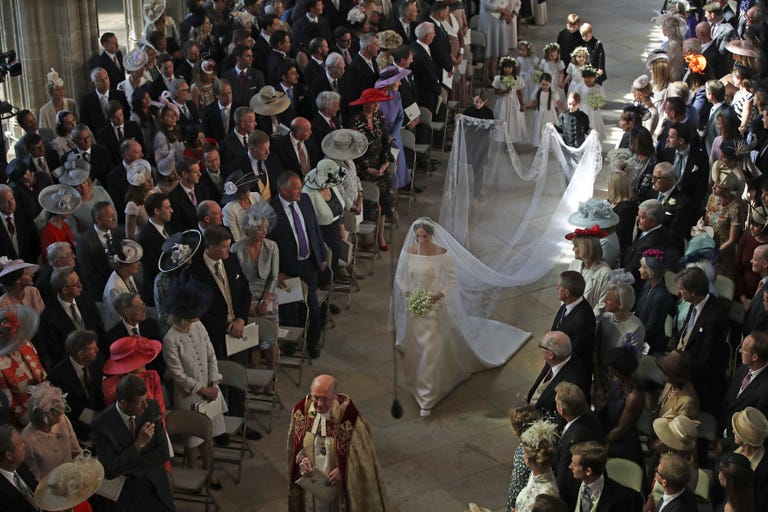 8. You might have missed catching a glimpse of them but her shoes are made by Givenchy
The new Duchess nailed the look in satin bridal heels that perfectly matched her wedding gown. The wedding shoes are based on a Givenchy refined pointed couture design made of a silk duchess satin.
9. Prince Harry added a personal touch to Meghan's bouquet
Prince Harry handpicked flowers a day before the wedding from the private garden at Kensington Palace to add to the bespoke bridal bouquet designed by florist Philippa Craddock.
The bouquet also includes Forget-Me-Nots which were Diana, Harry's mother, favorite flower to honor her memory. Other flowers include scented sweet peas, lily of the valley, astilbe, jasmine and astrantia, and sprigs of myrtle which are all bound with a naturally dyed, raw silk ribbon.
10 . Meghan's make-up was flawlessly done by her long-time friend
Meghan enlisted the help of makeup artist Daniel Martin and long-time friend for her makeup. She went for slightly more done-up version of her signature makeup look with a warm blush accenting her cheeks and her eyes dusted with a subtly smoky shadow. A soft pink lip and lashes for days completed her look.
Meghan's nails were glossed with a pale nude-pink polish, and her hair for the day was worn in a tousled up do created by hairstylist Serge Normant.
This post first appeared on 234Star.