BY ANDREW OKE
This year has seen a multitude of Nigerian films flood our cinemas. Some good, some bad, some somewhere in between. This year, we have witnessed an arbitration, seen a handful of wives go on strike and been transported back to 1976.
From the streets of Surulere to the creeks of Oloibiri, we have followed many stories, both good and bad, and we have arrived at this point where we have to churn out a list of not exactly the 'best films of the year' but more of 'the best films the year had to offer.'
Here we go.
10. It's Her Day
In this film, celebrity comedian, Bovi plays Victor, a newly engaged man who takes it upon himself to foot the bill for his wedding to his narcissistic fiancée, Nicole (Ini Dima-Okojie). Little does he know that Nicole (with the help of her equally self-centred interchangeable sisters and mother) is planning to have her ultimate fairy tale/lifestyle wedding completely with a staged proposal and the full attention from the Nigerian blogosphere, regardless of how much it costs him.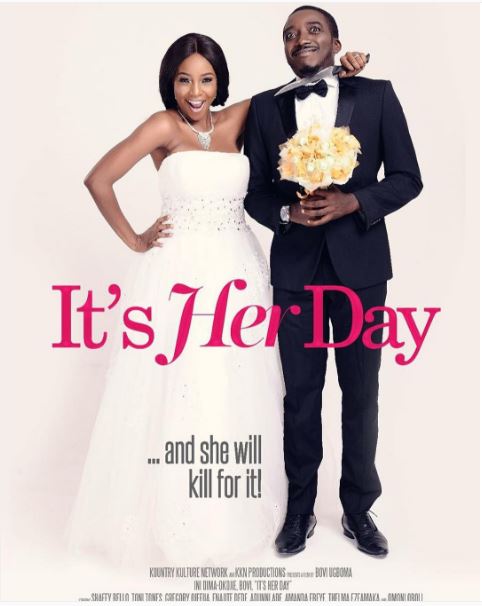 Bovi manages to flex his well-known comedic muscles, but that is all this film offers. Every scene sans Bovi is not worth watch and there are far too many without him.
9. Diary of a Lagos Girl
The films follow Bim (Dolapo Oni), a single material girl in her late 20s working and living in the city of Lagos, as she searches for the ideal man that can not only offer her much needed companionship, but also a certain standard of living, complete with designer bags, and of course, a Range Rover.
This film is as predictable as they come. There is nothing that will keep anyone in their seats or even awake. It is rife with technical failings like poor sound and shoddy camera work, but unlike the other "not so good" films on this list, it is the only one that seems to be self-aware. It almost knows that it isn't a good film, but it keeps going on. For that reason, I found it to be charming. Not good, just charming.
8. Affairs of the Heart
Affairs of the Heart follows a single Forty-something year old Nigerian woman; Vivian who is played by Stella Damasus. She has made a life for herself as a successful doctor in the US. On a 5 day trip to Nigeria, she meets Eric, played by Joseph Benjamin, who she believes to be the love of her life and has now brought him State side to be with her and to be bound in holy matrimony. He seems like a perfect guy, but beneath the surface he's hiding a deep, dark secret.
This is a film that was derailed by the inadequacies of its director, Robert O. Peters. He managed to deflate every supposed "big reveal" that the film was supposed to have, making it a boring labour to watch.
7. Dinner
Dinner tells the story of a group of friends and acquaintances that over the course of a dinner (more like late lunch) realise that their various relationships aren't as rosy as they might think.
This film is a cautionary tale of over-stretching an extremely thin story/premise and not presenting characters with enough conflicts to keep the story interesting for its entire run-time. Add to this, a distinct tone deafness and what you have is a film that had the potential to be much better than it turned out being.
6. The CEO
The CEO tells the story of five corporate executives at a multinational telecoms company who are selected to attend a retreat in order to determine who will become the company's new C.E.O here in Nigeria, however, things take an eerie turn when, one-by-one, the execs turn up dead.
The CEO is a very good looking film and that's about it. At the surface, it seems like a good film, but upon closer inspection, it reveals its true self as flawed and mostly empty. I only hope Kunle Afolayan learns from this and commences his next project only after the story has been adequately worked on.
5. The Wedding Party
Mostly directionless, but extremely entertaining, The Wedding Party is a particularly special film. It is rife with narrative and pacing issues, but it somehow manages to make you throw your head back and laugh. This is mostly due to the charm and brilliance of Sola Sobowale, who took the film by the scruff of the neck and ran off with it.
Although the film has a number of problems and at a point, seemed like it had no idea where it was going, it was able to get back on course and finish off adequately.
4. Oloibiri
The first film on this list that I actually enjoyed, Oloibiri casts an eye on the inhumane exploitation of the Niger Delta while following the stories of three very different men whose paths cross as result of a kidnapping. We take a look at these men who are all butting heads with each other even though they are all, at their core, striving for the same thing; justice for the Niger Delta.
It manages to pull aside the curtain and take a good look at the social injustices and internal conflicts in the Niger Delta and its inhabitants without hitting you over the head with its message. Subtle where it needs to be, it deals with heavy themes of guilt and regret as well as the issue of the exploitation of the Niger Delta with complete respect.
3. 93 Days
93 Days chronicles the outbreak of the Ebola virus in Nigeria and the roles of Dr. Ameyo Adadevoh (Bimbo Akintola) and the staff of the First Consultants Hospital in its containment.
The film is presented mainly in the points of view of Dr. Ameyo Adadevoh and Dr. Ada (Somkele Idhalama) as we follow the efforts of the Lagos State government, World Health Organisation (WHO) and the doctors who came face-to-face with the deadly virus.
93 Days is a film with a lot of story and narrative issues, but it is also a very adequately made film and Steve Gukas does a great job of bringing us into the worlds of the characters, even though most of them are either uninteresting or underused.
2. '76
'76 is a film set around events that led up to and came after the failed coup attempt of 1976 in Nigeria. In order to cast light on this, we are told the fictional story of Captain Joseph Dewa (Ramsey Nouah), a disgruntled soldier who recently arrived at an army barracks in Ibadan to reunite with his very pregnant wife, Suzie (Rita Dominic). Dewa is thrown into a huge conspiracy to assassinate the Head of State and overthrow the government through no fault of his own and it's up to him and his wife, Suzie to prove his innocence.
Above everything else that this film has going for it, the most impressive is the amazing production design by Nollywood legend Pat Nebo. It is a film that was made with a lot of care a truckload of heart.
1. The Arbitration
The Arbitration tells the story of Dara (Adesua Etomi), a woman who drags her former boss and lover (who also happens to be a married man), Gbenga (OC Ukeje) to an arbitration panel after accusing him of rape (an accusation that he vehemently denies). Dara claims that she was coerced into having sex with Gbenga in return for him removing a "non-compete clause" in her employment contract, while Gbenga claims the sex was completely consensual.
This film came at a time when almost all the films that had been released in the cinema before it left a lot to be desired. It was a breath of fresh air back then and it still is now. By a mile, this Niyi Akinmolayan film is the best of the year.
*************
Editor's Note: This list features only films which were officially released to the public in 2016.